Welcome to the Deathsex Bloodbath Wiki
Edit
Wiki dedicated to legendary Coventry punk quintet Deathsex Bloodbath.
Who are Deathsex Bloodbath?
Edit
Main article: History of Deathsex Bloodbath
Deathsex Bloodbath are a punk band formed by Sadogasm and Masokiss in Coventry in 1998. After many line-up changes the current line-up is Sadogasm, Masokiss, Switchblade, Justin Appropriate and Sororicide.
They play surreal punk influenced by glam, garage, riot-grrl and sleaze-rock. The band dress in outlandish makeup and costumes, and rose to notoriety with their shocking behaviour both onstage and off. Their lyrics often received criticism for their frank references to sex, violence and drugs, while their live performances were frequently called offensive and obscene. On several occasions, protests and petitions led to the group being blocked from performing, with legislation banning the group from performing still in effect in at least two countries.
As the controversy around the band began to wane, so did the band's popularity. The band's legacy was further hampered by the liquidation of their record label, Mega Records, and the subsequent uncertainty around the ownership of the band's output preventing further distribution of their classic albums. Despite this, the band continue to record and perform to this day, and are available for bookings at very reasonable rates.
Despite their international stardom at their peak, Wikipedia continues to delete pages relating to the band citing 'notability guidelines'. Push has come to shove. Time for a Deathsex Bloodbath wiki.
External links
Edit
Selected discography
Edit
"Golden Showers: The Very Best of Deathsex Bloodbath" (2014)
"One Christmas Night"/"Dreams I Have Had (About People in this Room)" (2014)
"Are You There God? It's Deathsex Bloodbath" (2016)
"Swipe Right with Deathsex Bloodbath" (2018)
This Wiki
Edit
As with any Wiki, this is open to everyone for editing, so feel free!
Here are some categories to help you navigate.
Got feedback? Please send it to deathsexbloodbath at gmail dot com
Latest activity
Edit
Photos and videos are a great way to add visuals to your wiki. Find videos about your topic by exploring Fandom's Video Library.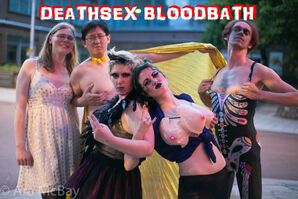 Community content is available under
CC-BY-SA
unless otherwise noted.